Pasta Dinner
NEW FREEDOM FAMILY RESTAURANT
As the end of February came upon us, we get excited for our annual Pasta Dinner at the New Freedom Family Restaurant!  We see old friends and make new ones!  The food is delicious and everyone wants to get there early to get the Lasagna before it sells out.
The staff, Dimos, Vickie and Georgie created several baskets of goodies to Raffle, along with the baskets H.O.P.E. brought and it was such a success. The staff gets just as excited as the rest of us!
The grand total for the evening was $4761! Even with the threat of sleet and freezing rain, we claim the evening a GREAT SUCCESS!
Thank you to the Papageorgiou family for hosting, to staff and our supporters for a wonderful evening!
THANKS TO THE NEW FREEDOM FAMILY RESTAURANT AND THEIR WONDERFUL STAFF FOR ALL THE SUCCESSFUL YEARS!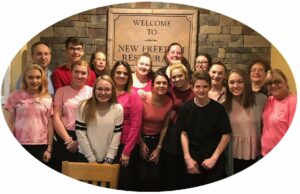 The New Freedom Restaurant and Coffee Shop has designated the last Monday in February for the H.O.P.E. Pasta Dinner from 3:00 PM – 9:00 PM.
Eat delicious pasta and support H.O.P.E. Join us for a fundraiser to benefit a favorite local non-profit that helps cancer patients and their families. Join us at New Freedom Family Restaurant & Coffee Shop located at 17308 Susquehanna Trail, New Freedom, PA 17349
Check out other events here.