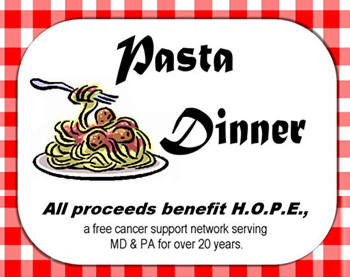 Pasta Dinner
On Feb. 26, 2018 a Pasta Dinner was held and a huge Thanks goes to New Freedom Restaurant for raising over $3700.00 for H.O.P.E.
A lovely evening of sharing with family and friends! 
Mark your calendars for February 25, 2019!
The New Freedom Restaurant and Coffee Shop has designated the last Monday in February for the H.O.P.E. Pasta Dinner from 4:00 PM – 9:00 PM.
Eat delicious pasta and support H.O.P.E. Join us for a fundraiser to benefit a favorite local non-profit that helps cancer patients and their families. Join us at New Freedom Family Restaurant & Coffee Shop located at 17308 Susquehanna Trail, New Freedom, PA 17349
Check out other events here.