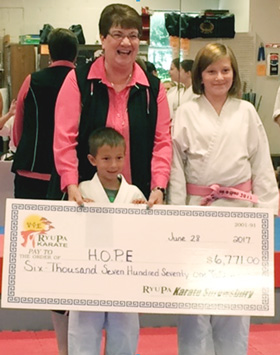 Ryu PA Karate Break-a-Thon
For a little over 10 years, Ryu Pa Karate Shrewsbury and Delta has held a Break-a-thon for H.O.P.E. (Help for Oncology Problems & Emotional Support). We are proud to announce that with the help of Browns Orchards in Loganville, and True Value of Shrewsbury, we have raised over $60,000 for H.O.P.E. through our Break-a-thons. The students learn to give back by raising money for their community.
Each year the event is held at the Browns Orchards Pavilion, on the Saturday before Mother's Day. We invited anyone to come out and enjoy the events, and consider donating to a wonderful cause!
All Ryu Pa Karate students need to register at their school and get their sponsorship packets. Please donate to a student today!
Check out other events here.