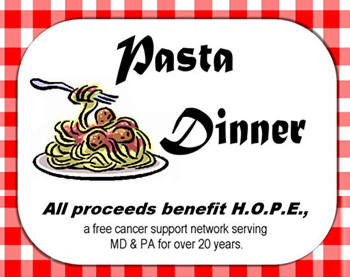 Pasta Dinner
For 2021 Season, we will be postponing our Pasta Dinner to another night later in the year! Please stop back for more information!
On Feb. 24, 2020 the New Freedom Family Restaurant held a Pasta Dinner for H.O.P.E.!
THANKS TO THE NEW FREEDOM FAMILY RESTAURANT AND THEIR WONDERFUL STAFF FOR ALL THE SUCCESSFUL YEARS!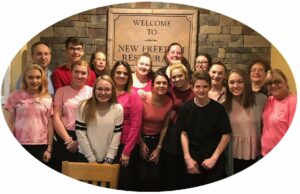 The New Freedom Restaurant and Coffee Shop has designated the last Monday in February for the H.O.P.E. Pasta Dinner from 3:00 PM – 9:00 PM.
Eat delicious pasta and support H.O.P.E. Join us for a fundraiser to benefit a favorite local non-profit that helps cancer patients and their families. Join us at New Freedom Family Restaurant & Coffee Shop located at 17308 Susquehanna Trail, New Freedom, PA 17349
Check out other events here.